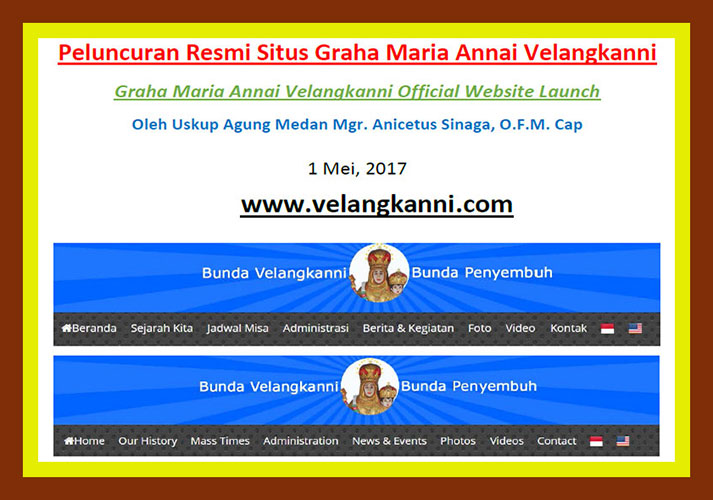 I am delighted to announce that the final version of the Graha Maria Annai Velangkanni official website is now live. I would like to thank the Archbishop of Medan Msgr. Anicetus Sinaga, O.F.M. Cap for officially launching it on 1 May 2017 during the triple jubilee celebrations. You can now find us at www.velangkanni.com
The primary objectives of developing our very own website are:
To provide an authoritative resource on the history of the shrine and its origins for posterity,
To provide an improved interaction for the public to be informed of the latest news and activities of the shrine in a timely and accurate manner,
To provide the general public a channel for direct communication with the shrine using digital means,
To reach out to young people through social media channels and help them to connect with each other through their devotion to the Blessed Mother.
The website has been developed as a dual language platform (Bahasa Indonesia and English) and the contents on both languages are 100 percent human developed and no automated translation service has been utilized to ensure the accuracy of the content.
We have devoted a lot of development effort focused on aesthetics, easy content access and and increasing the visibility of news and events at the shrine. The design also allows for streamlined menus, clear navigation, integrated social media buttons and a responsive layout for all platforms. It can be accessed from any type of device – computer, tablet or mobile phone, and will automatically readjust both the size and orientation to fit the viewing area available on the device being viewed from.
We have also given special attention to the the security of the website from the ground up in the initial design and have secured it with a secure socket layer (SSL) certificate to ensure that all information sent via the website is encrypted and safe.
Your feedback is very important to us as we strive to develop a website that is valuable to you. Please submit your questions, comments, and concerns via the Website Feedback Form.
On behalf of the Graha Maria Annai Velangkanni I would like to thank the Lazarus family from Malaysia for sponsoring the website right from the conceptual design, development and roll out of the website. They are also providing the ongoing support for the maintenance of the website to ensure its reliability and availability.
We're on-line!
Father James Barataputra S.J
Shrine Rector