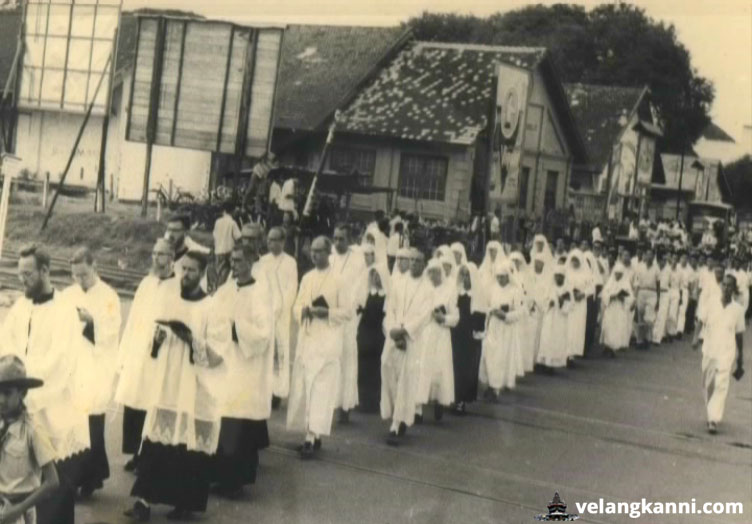 The History of the Tamil Catholic Community
In the late 19th century, some of the French and Dutch plantation companies had brought migrant workers from India (Pondichery and other parts of Tamilnadu) to be employed in their plantations in Deli Serdang area in the outskirts of Medan Town. Among those Indians were several catholic families.
As part of their spiritual care the company had provided a chapel where the catholic families could meet and have their religious services conducted in their mother tongue (Tamil) on Sundays. Occasional visit of some priest from Pondichery to celebrate Holy Mass in Tamil brought them great joy.
At the inception of the Cathedral Church of Medan as place of worship in 1879 at Jl Pemuda No 1 (formerly: Paleisstraat; Istana Street) the majority of Catholics were ethnic Tamil Indians and the Netherlands. The Tamil Indians later built for themselves a Parish at Jalan Hayam Wuruk in Medan Baru area, called as St. Anthony's Church, annexed to it were housing for Tamil Catholic Indians.
The Mission of Father Van Loon
Father Johannes (Ferdinandus) Van Loon OFM Cap, who arrived in Medan from Holland on 20 August, 1912 was asked to look after the religious needs of the Tamil Community by Father P Camillus Bull OFM Cap and was eventually appointed parish priest for the care of the Tamil Catholics scattered in the plantations.
In order to be effective in his apostolate, he started learning Tamil Language and went to Penang to improve his Tamil in 1913. After spending several months in Penang he returned to Medan at the end of July 1913 and gave his heart and soul to the care of his beloved flock.
After serving the Tamil Catholic families scattered in the plantations, Father Van Loon established a mission station in Medan town by bringing together as many Tamil Catholic families from the plantations.
Thanks to Msgr. Brans and the Capuchin provincial a piece of land was bought in Petisah between Jl. Mojopahit and Sriwijaya. It is on this piece of land that the Tamil families were settled and a chapel in honor of Mother Mary and St. Anthony was put up. This village came to be known as the Kampong Kristen (Kovil Kambam in Tamil).
In March 1915, a semi permanent Primary School was built to provide education to their children and opened with 52 Tamil children. The school also functioned as the church for liturgy until a new church (which is the present parish church, dedicated to St. Anthony) was built and blessed on a Sunday in 14 November, 1915 and after a year later a parish house was added to the church complex in October 1916.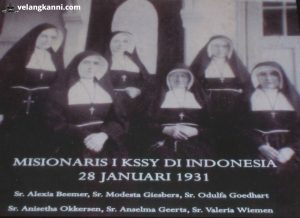 As he could not handle single handedly the increasing number of Indian Catholics, Fr. Van Loon appealed for some sisters to help him in managing the school. Hence at the request of Msgr. Brans, six Dutch sisters from the Congregation of St. Joseph van Amersfoot arrived in Medan on 28th January 1931 to assist Father Van Loon in his mission work.
The six sisters are Sr. Alexia Beemer, Sr. Modesta Giesbers, Sr. Odulfa Goehart Sr. Anisetha Okkersen, Sr. Anselma Geerts and Sr. Valeria Wiemen and they were to work among the Indians looking after the school and the children at the boarding.
From 1930 until World War II, this small mission station flourished, together with their faith and devotion. The Tamil culture and traditions manifested during the celebrations and masses. Because of the popularity of the mission, an increasing number of families from other ethnic groups moved into the area which necessitated the status of the mission to be turned into a full fletched Parish. In 1935, a new St. Anthony's Church was built in Jl Hayam Wuruk.
During World War II, when the Dutch priests and sisters were put to jail, the Tamil community took care of the Parish. Soon time after the war, Fr. Van Loon, who was then called the apostle of the Tamil community, had to go back to Holland due to ill health, and died on 10th February 1947. Fr. P Timmermans took over.
In 1952, the Apostolic Vicariate of Medan was divided into Medan and Padang. The Apostolic Vicariate of Padang was served by Xaverian priests from Parma, Italy. Meanwhile, the Apostolic Vicariate of Medan was served by Capuchin priests from the Netherlands, who were later supported by Capuchin priests from Germany. These German priests were invited by Monsignor Brans. He then left for the Netherlands in 1955. Monsignor Ferrerius van den Hurk, OFMCap replaced him.
The Collapse of the Tamil Catholic Community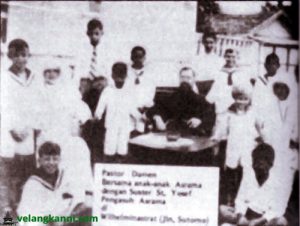 In the absence of Fr. Van Loon and the increase in the multi-ethnic nature of the Hayam Wuruk Parish, the Tamil Catholic community felt left out and they started withdrawing from the main stream of parish life. Being uneducated, they could only do odd jobs, where available.
The lack of leadership amongst them, the prevalence of poverty, illiteracy and unemployment turned Kampung Kristen into a ghetto where poverty, alcoholism and crime thrived. The community had lost their direction and the 50 families living there was consumed with fear, anger and desperation. They did not socialize with the other communities and were confined to themselves. Education and relocation was the answer to their woes.
The Mission of Father James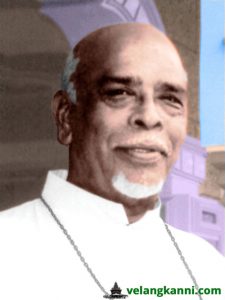 As a Tamil Indian Jesuit student, Fr. James volunteered to go and do mission work in Malaysia after his philosophical studies in India and actually did his Pastoral year in Kuala Lumpur from 1966-1967. But due to new immigration laws he could not stay in Malaysia for long and so his Superior sent him to Indonesia to do his theological studies in the hope that he could return to Malaysia after his priestly Ordinations. Unfortunately he was not able to go back there and instead God chose Indonesia as his mission land.
Fr. James landed in Indonesia on May 1967 and right away started learning Bahasa Indonesia in preparation for his theology studies in St. Paul's Major Seminary in Jogyakarta. During this period he happened to read about the archdiocese of Medan and the concentration of Indian migrants living there.
So with his superior's permission he visited Medan in December 1968 and was warmly welcomed by Msgr. Van Den Hurk OFM Cap, the then archbishop of Medan. He was allowed to stay in Hayam Wuruk Parochial House for three weeks in the company of two Capuchin Fathers, Father Timmermans and Father Maximus Brans.
Soon after his Priestly Ordination on 27 December, 1970, the Archbishop of Medan, Msgr. Van Den Hurk, contacted Fr. James's Superior in Hong Kong and obtained his permission so that Fr. James could go to work in his archdiocese of Medan. So in May 1972 Fr. James came to Medan and started his priestly life as an assistant priest in Hayam Wuruk Parish in the company of Fr. Timmermans and Fr. Brans. Fr. James was given a special mandate by the Archbishop to serve the Indian community in his pastoral duties. He stayed for 12 years in the Kepastoran Katholik Medan to do his pastoral work and that was the start of his mission which culminated in the building of Graha Maria Annai Velangkanni.
After the death of Fr. Van Loon, the Indians living in Medan in general and the Catholics of Kampung Kristen in particular felt like a sheep without a shepherd and the arrival of Fr. James raised their hope for a better future. However, Fr. James noticed that the Tamil Catholic community was backward in almost every respect – economic, educational, religious and social – in comparison with other Indians in Medan. Fr. James wanted to bring about a radical change in Kampung Kristen to rectify the situation brought about by two decades of poverty, misery and a lack of direction.
Uplifting the Tamil Catholic Community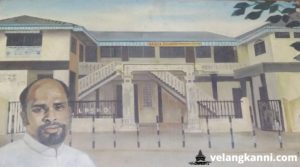 As a first step, a project for the education of the children was planned because only a handful of them had done their Junior High School. Since education would help bring about a change in their mentality, and open up better future for the children and give them self respect, he constructed a multipurpose two-storey building in Jalan Mataram, Medan under the name Lembaga Pendidikan Sosial Karya Dharma in December 1973, with the blessing of the archbishop and the support and cooperation of some well to do Indians in Medan.
Karya Dharma School has done great service to hundreds of Indian children and served as a Primary School as well as the center for social and cultural activities for the people of Kampung Kristen for some years. Many alumni of Karya Dharma had gone up to Senior High and even University, and are now employed in good position in many parts the country.
After more than 25 years of its service the school was given over to the management of Yayasan Don Bosco and is functioning now under the name of Sekolah Dasar St. Thomas V/VI Jalan Mataram, Medan.
The Relocation of the Tamil Catholic Community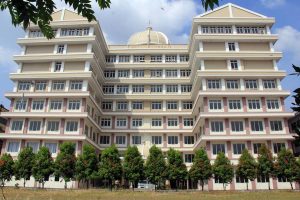 However, the next real challenge facing Fr. James was to clear the ghetto situation at Kampong Kristen and to get the Tamil Catholic community comprising of about 50 families to leave Kampong Kristen so that they would find suitable employment elsewhere to improve their socio-economic situation, raise their standard of living and to interact with the other ethnic groups. He started the project in 1978 to relocate the families.
Despite strong opposition and even many threats to his life, Fr. James persevered and slowly but surely dispersed them. Towards this end, Fr. James bought a piece of land in Tanjung Selamat (Bay of Salvation) to relocate some of the families so that they could venture into agriculture and other village related activities. However, the Tamil community refused to move into this piece of land and instead moved to other areas of Medan for their livelihood.
The Tamil people left Kampung Kristen with a lot of anger and resentment towards Fr. James as the relocation had taken them out of their comfort zone. Looking back today, many express their gratitude to Fr. James for the education they had received at Karya Dharma and the opportunity to mix with other communities to lead a more independent life.
It seems God had other plans for the piece of land in Tanjung Selamat. On the old land of Kampung Kristen now stands the new Medan Catholic Center which is the pride of the Catholic Community of the archdiocese of Medan.
The Idea of Building A Church Was Born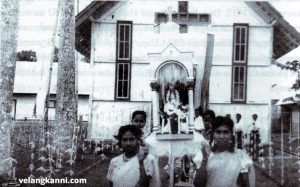 With the Tamil Catholic Community dispersed, they now longed for some form of togetherness and fellowship amongst them which was absent since the days when they lived in Kampong Kristen.
In 1991, they formed a Basic Christian Community (BEC) under the name of 'Great Family of Tamil Catholics of St. Boneventure' and approached the Archbishop in 1998 to build a community hall for them to promote education and community activities amongst them as the facilities at Karya Dharma was not available anymore since the school needed the space.
Fr. James was approached to build the community hall on the land that he had purchased earlier in Tanjung Selamat. It then occurred to Fr. James that a community hall is not enough, there needed a place of worship too and he then suggested that a church with a community hall be built to which the Archbishop agreed. Fr. James meditated on it and contemplated on the idea of a church dedicated to Annai Velangkanni and the community hall to St. Anne, the mother of Mary.
Why Annai Velangkanni?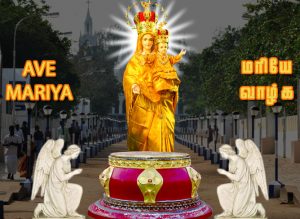 The Tamil Catholic community of Medan had a deep devotion and honor for Blessed Mother Mary of Velangkanni, whose shrine is well known all over the world to people of all races and creed for her miraculous help and protection. Irrespective of their religious beliefs, Tamils throng to churches dedicated to our Blessed Mother Mary every where, and in fact among the Tamil people, the Catholic church is always known as 'Matha Koil" meaning church of Mother Mary.
The idea of a Shrine in honor of Annai Velangkanni which could serve as a pilgrimage center for the population of Medan archdiocese was strongly supported by the then Archbishop of Medan Msgr. Alfred Gonti Pius Datubara OFM Cap. The Archbishop had visited Annai Velangkanni Shrine in Tamilnadu, India and was duly impressed with the devotion of the people and power of the Blessed Mother in that Church.
The Shrine of Annai Velangkanni in India is a national pilgrimage center built some 350 years ago and has been drawing millions of people every year from every walk of life and religious affiliations. It stands as a living proof of devotion to our Blessed Mother Mary. The heavenly Mother through her powerful intercessions is still working miracles by curing the sick, granting the petitions of the devotees and making her Son Jesus known and loved by people thus enkindling faith in the unbelievers and strengthening the faithful, as at Lourdes in France and Fatima in Portugal.
The Construction and Blessing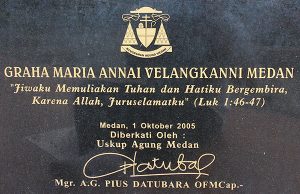 The Graha Maria Annai Velangkanni was built on the land in Tanjung Selamat and the construction took a period of about 4 years from 2001 – 2005. Fr. James who masterminded the building of the Shrine worked with patience, hard work and courage for its completion, and used the hands of amateurs and relied entirely on funding from donors.
The Graha Maria Annai Velangkanni was officially inaugurated on the 1st of October, 2005 by Monsignor Alfred Gonti Pius Datubara OFM Cap, together with his Coadjutor Archbishop Monsignor Anicetus Antonius Sinaga OFM Cap and more than 3000 people from several ethnic groups attended the celebrations and amongst them were 200 foreign pilgrims from Malaysia, Singapore and India.
History Acknowledgements
Diocesan Archives:
Gereja St Anthonius, Jl. Mojopahit No. 1, Petisah Hulu, Kota Medan, by Father James Bharataputra S.J (Parish Priest from 1972 – 1983).
Medan Archdiocese, Jl. Imam Bonjol No.39, J A T I, Medan Maimun, Kota Medan by Archbishop Emeritus Alfred Gonti Pius Datubara, OFMCap (Archbishop of Medan from 1976 – 2009).
Video – Blessing and Inauguration of the Shrine