Visiting Hours
Daily – 07:00 to 20:00 WIB (Western Indonesia Time, GMT+7)
GPS Coordinates : N3°32'54.2″ E98°36'31.1″
Latitude: 3.548403, Longitude: 98.608645
Climate: The province's climate is generally tropical: dry season (June-September) and rainy season (November-March). The temperature in Medan is around 24-34 degree Celsius.
Note : In the Indonesian language a street is known as Jalan (often abbreviated to Jl.), the word Taman means a housing estate and Bandara means airport.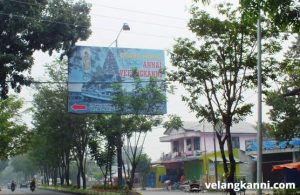 It's location in the outskirts of Medan city is quite easy to locate and accessible to most vehicles. Train and bus services are available up to Medan city from the airport, and taxi service is also available up to the shrine.
Sandwiched as it were between two housing estates Taman Sakura Indah and Taman Alamada Indah, the shrine is noticeable from afar . Once you are in the Jalan Sakura III look out for huge billboard in the road edge which shows the location of Graha Maria Velangkanni.
How To Get To The Graha Maria Velangkanni Shrine?
1. If You Are Taking a Taxi
If you are taking a taxi inform the driver the Graha Maria Velangkanni is in Taman Sakura Indah and it is located near Pajak Melati road junction and Asam Kumbang Crocodile captive. There are 2 possible routes to reach the place. The first one is via ASRAMA HAJI and Pajak Simpang Melati towards PINANG BARIS. The second route is via ASAM KUMBANG towards ASRAMA KAVELERI to Jl. Sakura III before Pajak Simpang Melati.
On your return journey you may want to ask the taxi driver to come back and fetch you again as it may be difficult to get taxis around the residential housing estate area within which the Graha Maria is located. Alternatively, if you use smart phone apps you can easily book a taxi on your phone with Blue Bird, GoCar, and GrabCar services. You can also call the phone booking service of major taxi operators in Medan – Blue Bird (061-846 1234), Nice (821-6005-5544), KARSA (617-874-848) and Matra (061-844 2222/8470 0225).
2. If You Are Taking Public Transport
The Graha Maria is also easily reachable by Angkot (Angkutan Umum Kota) which are public mini-vans or Betor (Becak Bermotor) which are motorized trishaws at a low a tariff.
3. If You Are Driving
Most people prefer using Setiabudi and Flamboyan Raya street route rather than Sunggal and Bunga Raya street route for a much pleasant ride. The parking area in the Graha Maria complex is convenient and spacious, and it is free.
4. If You Are Coming Through The Airport
The nearest airport is
Kualanamu International Airport
. From the airport you can take a taxi straight to the Graha Maria, and the 41 kilometers journey takes about one hour. The average taxi tariff is about IDR 250,000 (USD $19) depending on the taxi company and the route traveled. Alternatively, you can take
Railink train
from Kualanamu Airport to Medan City. It's a 45 minutes journey and costs IDR 100,000 (US$7.50). The service starts at 0445 and the last train service ends at 2335. Once you are in the city you can explore other public transport options to the Graha Maria.
Hotels to Stay
There are many good affordable hotels available around Medan city. You can check out the following hotel booking websites for your options:
1. Traveloka
2. Klikhotel
3. Wego
4. Raja Kamar
5. 1001 Malam
6. Pegi Pegi
7. Mister Aladin
8. Booking.com
9. Agoda
10. Tripadvisor
11. Expedia
12. Hotels.com
Accommodation In The Shrine For Pilgrim Groups
From the time of the very early Church until today, Christians have made pilgrimage to holy places as a part of their discipline and life of faith. Parish groups journeying on a pilgrimage have a unique opportunity to strengthen their ties, spiritually enrich each individual and the community.
The Graha Maria provides simple accommodation facilities for pilgrim groups from outside the city of Medan and the neighboring countries. The accommodation is known as Bethany and helps to create a pilgrimage experience. It is recorded in the New Testament that Bethany as the home of the siblings Mary, Martha, and Lazarus, as well as that of Simon the Leper, is the place where Jesus often stayed in proclaiming the kingdom of God.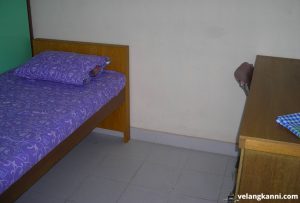 There are only a few rooms available due to limited space and can accommodate a small group of 20 visitors. The rooms consist of a private room with a either a single bed or two single beds with a small table. The rooms have a ceiling fan and an attached bathroom. A much bigger toilet facility is also available on the ground floor. Bring your own towels, toiletries and comfortable clothes to sleep in. Don't bring valuables and electronic devices as they are a distraction and a potential target for theft!
In order to maximize the number of pilgrims we can welcome to the Graha Maria, it is necessary to ask people to share rooms with their friends wherever possible. We encourage all of our pilgrims to enter into the "Spirit of Pilgrimage" when they come to visit the Shrine.
There are no fixed tariff rates for these rooms. It is free to stay and a love token will be much appreciated for the upkeep of the facilities. Pilgrims who wish to stay in these rooms are advised to make an early bookings to secure a room.
Note: Accommodation in the Shrine is no longer available as a covid-19 containment measure.
Holy Mass is celebrated only in the Church and Chapel space. Pilgrim groups accompanied by a Catholic priest can request to conduct their own masses and is expected to confirm this with the Rector before arriving at the Shrine.
Graha Maria Dress Code and Etiquette
If it is your first time visiting a sacred place of worship, it's important to take note of several reminders as part of practicing proper Dress Code and Etiquette. Here are some pointers that you should remember when visiting the Graha Maria:
Please wear appropriate attire and be suitably covered i.e. no short skirts/shorts.
Please remove shoes and hats before entering the Church or Chapel.
Children are to be supervised at all times.
No smoking is allowed within the Shrine grounds.
No alcohol is to be brought into the Shrine grounds.
Canteen Kana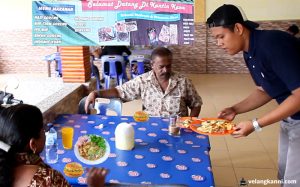 There is a small canteen called Kantin Kana within the Graha Maria complex to cater for the needs of the visitors. Those staying in the Bethany Retreat House can also make special orders from this canteen for their needs.
They serve ready-to-eat meals such as nasi goreng (fried rice), mie goreng (fried noodles), ayam goreng (fried chicken) , mie ayam (chicken noodle), soto mie (soto noodle), bubur ayam (chicken congee), asinan (preserved vegetables or fruits salad), laksa and kerak telor (spicy omelette). They also serve a collection of snacks and assorted gorengan (fritters).
Popular hot drinks include coffee, tea and milo. Fruit juices (jus) include orange (jus jeruk), guava (jus jambu), mango (jus mangga), soursop (jus sirsak) and avocado (jus alpokat), the last of these being commonly served with condensed milk and chocolate syrup as a dessert-like treat.
Nazareth Gift Shop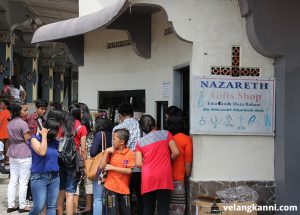 If you want to bring a souvenir there is a cooperative that sells trinkets, Bible, rosary, children's giftware and keepsake gifts made especially for the Shrine at an affordable price as souvenir for your spiritual travel.
Karsa Murni Gift Shop

The Archdiocese of Medan also runs a shop for the visitors of Graha Maria Annai Velangkanni. It is located across the entrance gate and it is well stocked with a large selection of religious and spiritual items, including rosaries, statues, medals, prayer cards and books.