The Administration of The Graha Maria Annai Velangkanni comes directly under the Archdiocese of Medan. The Archdiocese of Medan is located in the province of North Sumatra. The province has 419 islands with different ethnics including Melayu Deli, Batak Toba, Batak Karo, Batak Pakpak, Batak Simalungun, Batak Mandailing and Nias. Majority of the people from Toba and Nias ethnics are Christians, while the people from Mandailing dan Melayu ethnics are Muslims. They speak a mix of languages but Indonesian language is commonly used.
The Bishop of Rome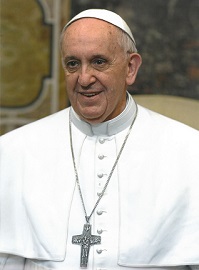 The Catholic Archdiocese of Medan belongs to the Roman Catholic Church. The head of the Catholic Church is His Holiness Pope Francis. Pope Francis was born on 17 December, 1936 in Buenos Aires, Argentina and baptized as Jorge Mario Bergoglio. Jorge Mario Bergoglio was ordained a priest on 13 December, 1969.
He was appointed as a Cardinal on 21 February, 2001 by Pope John Paul II. A papal conclave elected him as the 266th Pope on 13 March, 2013 and placed in the office of Bishop of Rome on March 19, 2013.
Website: The Holy See
Source: Wikipedia

Apostolic Nuncio to Indonesia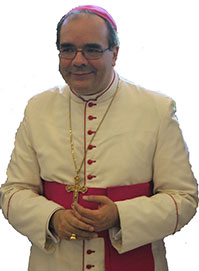 The Apostolic Nunciature to Indonesia is a diplomatic position within the Vatican, equivalent to an embassy. It is located at Jalan Merdeka Timur 18, Jakarta-Pusat.
The Apostolic Nuncio of the Holy See to the Republic of Indonesia serves both as the ambassador of the Pope (as head of State of Vatican City) to the President of Indonesia, and as a delegate and point-of-contact between the Catholic hierarchy in Indonesia and the Pope (as head of the church).
Since March 2011 the Apostolic Nuncio of Holy See to Indonesia is assigned to Archbishop Antonio Guido Filipazzi. His is the Titular Archbishop of Sutrium, Italy.
He was born in Melzo, Italy on 8 Oct 1963. He was ordained priest of Ventimiglia-San Remo, Italy on 10 October, 1987 and is among the youngest bishops ever to receive the Episcopal ordination. He received his theological studies at the Genoa Section of the Theological Faculty of Northern Italy and is proficient in few languages – English, German, French and Spanish.
Website: Facebook Fanpage
Source: Wikiwand
The Archbishop of Medan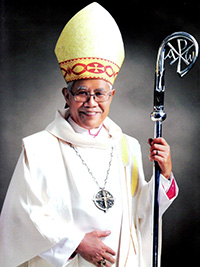 The Archdiocese of Medan is headed by Archbishop Anicetus Bongsu Antonius Sinaga, O.F.M. Cap. He was born on 25 Sep 1941 in Naga Dolok, Tapian Dolok, Kabupaten Simalungun, Sumatera Utara. A Priest of the Order of Friars Minor Capuchin he was ordained on 13 Dec 1969. Ordained as the Bishop of Sibolga, Indonesia on 6 Jan 1981. On 3 Jan 2004 he was appointed as Coadjutor Archbishop of Medan,Indonesia. Succeeded as the Archbishop of Medan on 12 Feb 2009.
As the high-priest and teacher of his diocese, the Archbishop presides over its whole life in the name of Christ.
Vicar General : Elias Semangat Sembiring, O.F.M. Cap.
Diocesan Secretary : John Rufinus Saragih, O.F.M. Cap.
Website : Archdiocese of Medan
Source: Catholic-Hierarchy
The Rector of Graha Maria Annai Velangkanni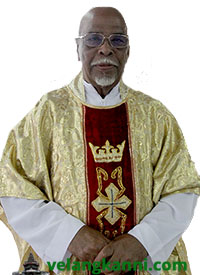 Father James was born on 3 July 1938 in a town near Madurai, India called Micheal Pattinam. In 1957, he entered the Jesuit order by joining the Novitiate in Beschi College, Dindigul, India (1957-1959) for the first two-year of theology studies. He the completed seminary high school in Seminari Tinggi St Paulus Kentungan, Yogyakarta, Indonesia (1967-1969). He then furthered his theology studies in St Mary's Kurseong India (1969-1971).
Upon ordination as a priest on 27 December, 1970, Father James has served as:
Parish Priest of St Anthony Hayam Wuruk, Medan (1972-1983)
Parish Priest Sacred Heart Parish Banda Aceh (1983-1991)
Parish Priest Good Shepherd Parish (Trans) Prafi, Papua (1992-1995)
TOR Seminary Rector of St. Mark Pematangsiantar (1996-2000)
Development & Implementation of Graha Maria Annai Velangkanni, Medan (2000-2005)
Rector Graha Maria Annai Velangkanni Medan, Medan (Since 2005 – )
Website : Graha Maria Annai Velangkanni
Administrative Services
The administrative services of the Graha Maria Annai Velangkanni is handled by Sister Jeanne Panul and Sister Garilyn Funtilon.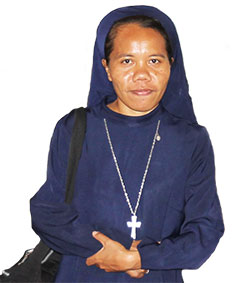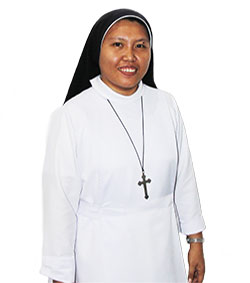 Sister Jeanne is seconded from the Sisters of St. Joseph Congregation (KSSY), Medan and is currently attached with the Graha Maria Annai Velangkanni. She is responsible for liturgy, secretarial services and pastoral activities.
Sr. Garilyn is seconded from the Oblate Sisters of St. Francis Xavier (SOSFX), Philipines and is currently attached with the Graha Maria Annai Velangkanni. She is responsible for finance, lodging and sacristan duties (arrangement of liturgical books, vestments, and other things necessary in the celebration of Mass).
Both of them are assisted by other sisters – both local and foreign.

Service Times
Monday – Friday: 08.00 – 17.30 WIB
Saturday: 08.00 – 17.00 WIB
Sunday: 08.00 – 18.00 WIB