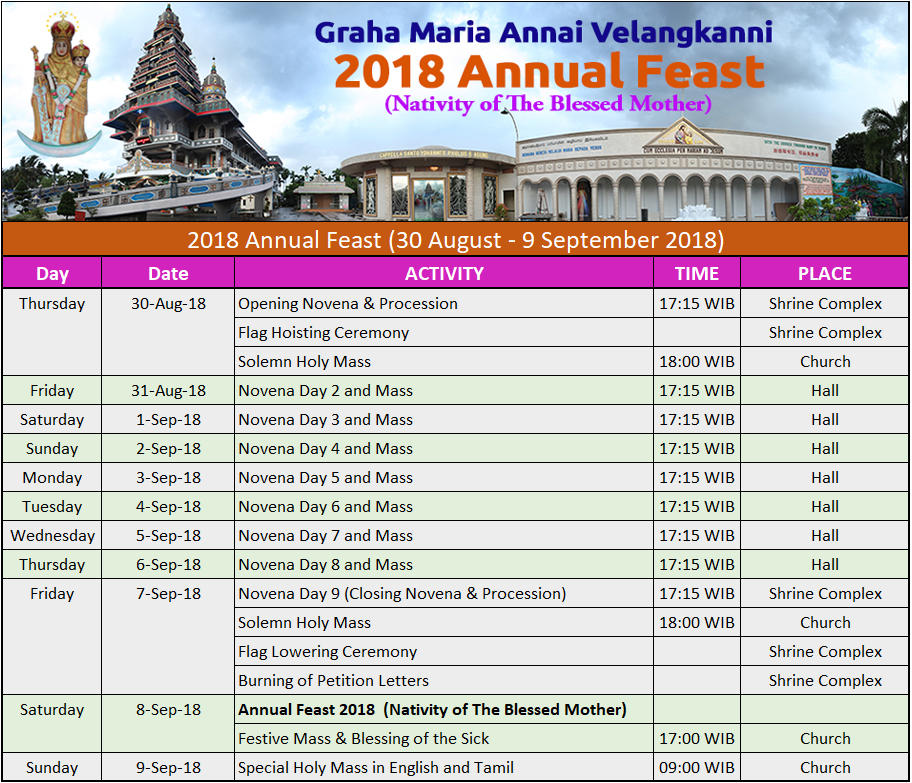 The Nativity of the Blessed Mother Mary on September 8 is celebrated as the annual feast of the Graha Maria Annai Velangkanni as it is also the day when this holy place was built.
The Marian Shrine of Annai Velangkanni is a Center of Pilgrimage in the archdiocese of Medan and has been attracting Marian devotees from all the parts of the Indonesian archipelago and South East Asian countries like Malaysia and Singapore since its inauguration in 2005. Not only during the feast days but all through the year the Shrine is full of devotees thronging to seek the blessings of the Holy Mother.
This year's 13th Anniversary feast celebration starts on 30 August 2018, with the raising of the Marian Flag and a procession, praying the rosary and singing hymns of praise to the Blessed Mother. Marian devotees prepare for the feast with a nine day novena devotion and the recital of the rosary.
The Graha Maria Annai Velangkanni is a holy place where people receive favors through the intercession of Our Lady who is dispensing God's blessings to those who come to her with faith and confidence. Many pilgrims attend the feast celebrations to intercede before the Holy Mother for getting children, normal delivery, healing, marriage, getting jobs, success in examination, peace in family life, recovery from debts, release from habitual sins etc. Newly married couples come to pay offering and homage for their marital success. The ill and the infirm participate in the blessing of the sick.
Come and Celebrate the birthday anniversary of our Blessed Mother together with us.
May the Blessed Mother bless us all.
LJC et MI.
Father James Bhartaputra S.J.
Shrine Rector
Watch the recording of the event here