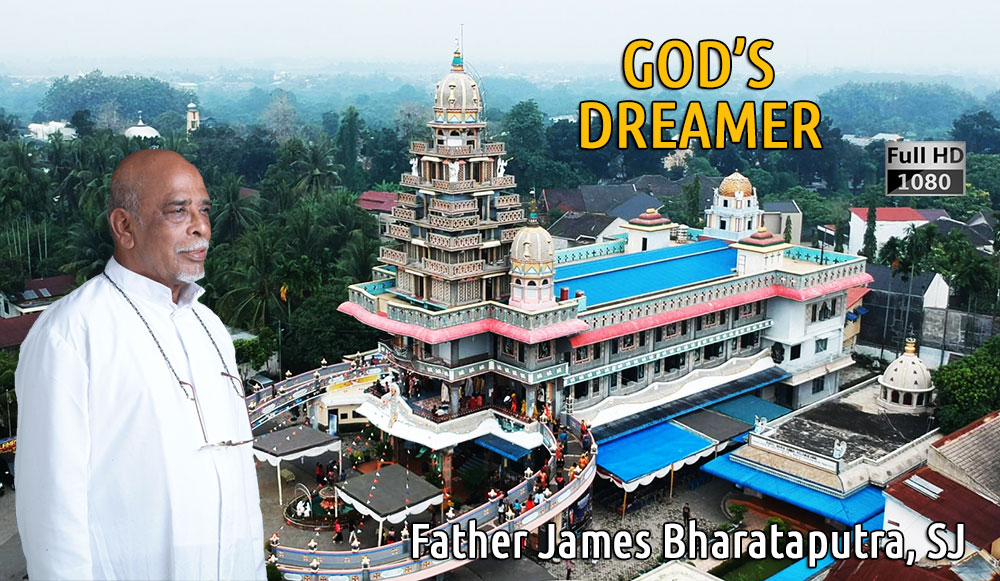 As we celebrate the 16th Annual Feast of the Marian Shrine of Graha Maria Annai Velangkanni Medan, we are very happy to launch on this auspicious occasion a documentary video on the life and work of Father James Bharataputra, an Indian Jesuit Missionary to Indonesia. "God's Dreamer", is an account of a man who was providentially led by the hands of God and inspired by the Blessed Virgin Mary to make God's Dream come true.
A man of great pastoral energy, he pioneered the devotion to Mary Annai Velangkanni (Our Lady of Good Health) in North Sumatra and built a uniquely magnificent Marian Shrine of Graha Maria Annai Velangkanni in 2005 to serve as a Pilgrimage Centre for the Archdiocese of Medan.
The entire concept of the Graha Maria Annai Velangkanni Shrine was inspired by one of the Contemplations on the Mystery of Incarnation, as given in the Spiritual Exercises, a book of jottings of spiritual experiences of St. Ignatius of Loyola, the founder of the Jesuit Order and a great spiritual Master who led the seekers of God into God-experience through Retreat. Following exactly the points of that contemplation as suggested by St. Ignatius, Fr. James aimed to depict a solid form of his ultimate contemplation as a Jesuit, and the Graha Maria Annai Velangkanni Shrine represents an instrument of New Evangelization through its structure, religious symbols, paintings, sculpture, ornaments and the colours of the exterior.
Graha Maria Annai Velangkanni was built by the hands of amateurs and relied on funding from donors. But as it turned out, the fact that God was behind all these efforts to create such a beautiful Shrine church and community hall is plain for us to see.
Thank you Father James for accepting this mission of God and its challenges and to bring forth to this world a monumental Shrine in honour of the Blessed Mary Annai Velangkani and through your toil and tribulations, peoples of all races and religions will experience the sanctity of Graha Maria, and peace, joy and healing powers of Jesus and Mary.
May the Almighty God grant you abundant heavenly gifts and keep you in His love.
The organizing committee would also like to record our deep appreciation and gratitude to Mr. Santhana Dass Savarinathan, Mr. Arunagiri Manikam Chettier and Rueben Ananthan Dass from Malaysia for their unceasing efforts, engagement, commitment and support spanning over a period of two years to see the completion of this documentary video.
The video has now been uploaded to our YouTube Channel and Facebook page, and can be viewed below.
Annual Feast Organizing Committee.
Marian Shrine of Graha Maria Annai Velangkanni
Watch The Documentary Video Here