About Father James
Father James Bharataputra was born on 3 July, 1938 in a town near Madurai, India called Micheal Pattinam. His parents Irudayam Pillai and Mdm Santhanammal had 2 children and he was the elder of the two. His sister Rosalia OSM, is a Sister with the Order of Servites of Mary. His father lived to a ripe old age of 100 years and was called to the Lord in 2000.
In 1957, he entered the Jesuit order by joining the Novitiate in Beschi College, Dindigul, India (1957-1959) with dreams of serving in a mission abroad. In 1966, his goal was realized when he was sent to work with Tamil communities in Malaysia. He served the Indian community in St Joseph Church (Sentul), Fatima Church (Brickfields) and Assumption Church (Petaling Jaya) when he was attached to the St. Francis Xavier's Church (Petaling Jaya). Shortly after his arrival, however, the Malaysian government passed an immigration law against foreign missionaries and so his superiors dispatched Father James to Indonesia. He has remained in the archipelago ever since.
Upon ordination as a priest on 27 December, 1970, Father James has served as:
Parish Priest St Anthonius Hayam Wuruk, Medan (1972-1983)
Parish Priest Hati Kudus Banda Aceh (1983-1991)
Parish Priest Gembala Baik (Trans) Prafi, Papua (1992-1995)
Seminary Rector TOR St Markus Pematangsiantar (1996-2000)
Shrine Building Project Implementer Graha Maria Annai Velangkanni Medan (2000-2005)
Rector Graha Maria Annai Velangkanni Medan (Since 2005 – )
The Tamil Catholics in Medan, Indonesia
The Tamil Catholic Community in Medan, Indonesia had a deep devotion and honor for Our Lady of Velangkanni. After decades of not having a permanent place of worship, the Tamil Catholic Community saw the light in Fr. James Bharataputra SJ who was God-sent to work in the Medan archdiocese. In 1989, they approached Pastor James as he is popularly called, and Fr. James meditated on it and contemplated on the idea of a church for the Tamil Community. Irrespective of their religious beliefs, Tamils throng to churches dedicated to our Blessed Mother Mary every where and in fact among the Tamil people, the Catholic church is always known as 'Matha Koil" meaning church of Mother Mary. Father James was looking into the possibility of building a church dedicated to Mother Mary and a community hall to St. Anne, the mother of Mary.
Why Annai Velangkanni?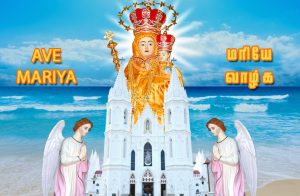 When the Archbishop approved the building of a Church and hall in the land Father James had in Tanjung Selamat, Father James was uncertain (because of lack of funds and expertise) and prayed for a sign. The sign was given to him in Nice, France.
On 21st December 2000, Fr. James led a group of 15 devotees from Medan to the Holy Land. When they landed in Tel Aviv airport they were denied the Isreali visa and so had to find their way to Paris. Terribly disappointed they decided to go to Lourdes on 23rd December. It was however a great consolation that they could celebrate Christmas on the Jubilee Year in Lourdes. The next destination was Rome with an overnight stop at Nice in France and a visit to Assisi. It was in Nice that the group witnessed the miraculous incident which strengthen their faith in the powerful intercession of our Lady of Velangkanni. Their faith experience was as follows:
One of the group member, M Satir, went missing and despite concerted efforts could not find him. On the following day, the group had planned to celebrate the Eucharist in one of the rooms in the hotel. When Father James was getting ready to prepare for the Mass, the tour guide came up to him with the bad news that Satir could not be found even after a night long search and the case had already been reported to the police. In the meantime, everyone in the group became aware that Satir could not be found. Requesting Father James to proceed with the celebration of the Eucharist and to do special prayers for the missing Satir, the tour guide left to continue his search for Satir. There was great anxiety and sobbing during the mass.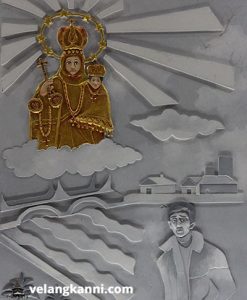 At the end of the mass, before the final blessing, Father James invited the group to join him in prayer to Annai Velangkanni for an extraordinary favour, to find and bring him back to the group. Recalling one of the miracles of Annai Velangkanni in rescuing the Portuguese sailors from their shipwreck and bringing them to safety, they pleaded for the safe return of Satir through her powerful intercession. As they were praying, they heard the door open. Lo and behold, there stood Satir, pale and speechless. That miracle cleared all doubts and uncertainties Father James had about the building of the Church and it was then that he decided that the Church would be named after Annai Velangkanni.
Father James prayed and left the rest of the plans, design, construction, finances and expertise entirely in the hands of Jesus and Mother Mary of Velangkanni. This was the turning point and there was no holding back until the dream was realized.
Why did he venture into this monumental task?
In his own words, he says;
The main aim in putting up this Marian shrine in Medan is not because some extraordinary and miraculous thing had happened or some apparitions of Mary had occurred here to warrant a shrine here. But on the contrary. I wanted Mary to perform miracles here in Medan as she has been performing at Vailankanni in India for more than three centuries drawing people from all walks of life and make them know her son Jesus clearly, to love Him dearly and follow Him nearly. As every shrine of pilgrimages is a place of welcome and encounter of God with His People and on the same token people with people who come together as children of God respecting one another, and loving one another as brothers and sisters of the same Father in Heaven, irrespective of one's race, tribe, tongue or belief. And thus to experience with the psalmist: How beautiful it is to live as brothers and sisters in the Lord's house on earth! "
The Source of his Inspiration
According to Fr. James, the entire concept of the Graha Maria Annai Velangkanni church was inspired by one of the reflections on the mysteries of incarnation, as given in the Spiritual Exercises, a book of jottings of spiritual experiences of St. Ignatius of Loyola, the founder of the Jesuit Order and a great spiritual Master who led the seekers of God into God-experience through Retreat. Following exactly the points of that contemplation as suggested by St. Ignatius, Fr. James aimed to depict a solid form of his ultimate contemplation as a Jesuit. The text of that contemplation is:
Imagine how God, the Three Divine Persons in heaven look down on the whole expanse of the earth, filled with human beings in such great diversity of color, languages and so on. But they quarrel and fight with each other and commit sin. As a result they all go to hell. Out of compassion, the Trinity decides to save mankind from sin and death, and sends the angel Gabriel to Mary of Nazareth to ask for her consent in becoming the mother of His Son, Jesus. And when Mary expressed her "fiat" God left heaven and came down to earth and became man in Jesus and remains with mankind as Emmanuel, God-with-us ".
His Journey of Faith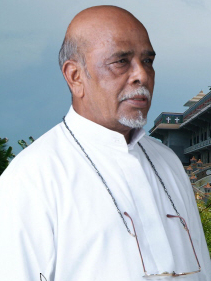 Fr. James ventured into such a monumental work that was eventually to cost more than four billion Rupiah (Equivalent to US$ 500,000) at a time when the Indonesian national economy was very unstable. Certainly it seems illogical and uncommon for many; but not for a man of faith. With only a strong faith and conviction in the Providence of God as the initial capital, he dreamed of the shrine to be a place where heaven and earth meet and a place where the divine and the human embrace each other, and it is here where God wants to meet His People irrespective of race, creed, and language.
In his own words, this is what Fr.James has to say about his journey of faith:
I am a dreamer by nature and I dream dreams. At times God's inspirations came to me during my dreams and at times I wake up from my dream and jotted down some of the details of my dream lest I forget them. I do not know how to describe this extraordinary spiritual experience by which I felt that it was God who had been dictating His plan in detail as I was proceeding with the construction.

Mary Annai Velangkanni seemed to look after my health all the time, although I had had some health problems before I started on this job. Twice I had serious motor cycle accidents and came out unscathed thanks to the protection of Mary. At no time did I feel worried about funds for the work because the Lord was providing my weekly needs through the generosity of hundreds and hundreds of Marian devotees who had been sending donations through my bank, mostly in anonymity. Hardly ever did I feel tired or exhausted in my work when I at an age of 68 during those period.

Apparently God seemed to have prepared me so long in my mission life for this task and it was only in the evening of my life and at the end of my mission journey that He deigned to reveal it. To achieve His plan God used me as his instrument to shape the Shrine for a period of four years as a greatest gift, to the archdiocese of Medan in 2000, at the beginning of the new Millennium.

You are a new creation of God and a Mystery to me and everybody. You are the good news to the world for you are an Open Bible in concrete and an instrument of New evangelization through your structure, religious symbols, paintings, sculpture, ornaments and the colors of your exterior.

All the credit and glory goes to God because He had the plan to be realized and used mostly amateur hands to achieve this marvel. I am just a small Chisel in the hands of God, the Master sculptor ".
Video – The Vision of Father James Bharataputra