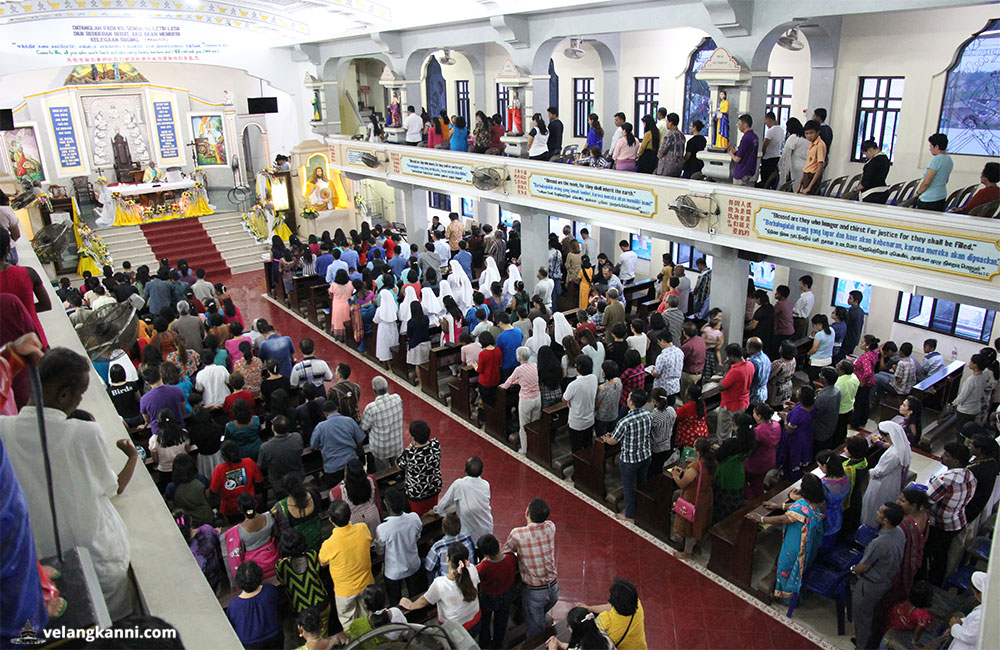 Graha Maria Annai Velangkanni is just a Marian Shrine dedicated to our Lady of Good Health and not a parish with a definite parish community. It is led by a Priest who is the rector of the shrine, and not as a parish priest. So there is no regular and fixed scheduled liturgical services as in normal parish churches. However, it provides like any other shrine, daily mass from Monday to Saturday at 6.00 PM in the evening for the devotees to attend and always ready to provide Masses and other services on any day, including Sunday throughout the year and at any time on request from the pilgrim groups.
Note:
1. All Masses are in Bahasa Indonesia unless stated otherwise.
2. All Times shown are in Western Indonesia Time (WIB – Waktu Indonesia Barat, GMT+7).
3. Date and Time are subject to change.
Temporarily Closed Due to Covid-19: This
information was last updated on 25 September 2020.
Saturday
Novena Devotion – 17:15 WIB
Mass – 18:00 WIB
Sunday
No Mass
Monday
Rosary Prayer – 15:30 WIB
Mass – 18:00 WIB
Tuesday
Rosary Prayer – 15:30 WIB
Mass – 18:00 WIB
Wednesday
Rosary Prayer – 15:30 WIB
Mass – 18:00 WIB
Thursday
Rosary Prayer – 15:30 WIB
Mass – 18:00 WIB
Friday
Rosary Prayer – 15:30 WIB
Mass – 18:00 WIB
(First Friday Only – Followed by Divine Mercy Devotion)
1 Jan, Mary, the Holy Mother of God/New Year – 09:00 WIB
4 Jan, Epiphany of the Lord – 18:00 WIB
19 Mar, Solemnity of Joseph, Husband of Mary – 18:00 WIB
25 Mar, The Annunciation of the Lord – 18:00 WIB
21 May, Ascension of the Lord – 18:00 WIB
30 May, Solemnity of Pentecost – 18:00 WIB
6 Jun, Solemnity of Holy Trinity – 18:00 WIB
13 Jun, Solemnity of Corpus Christi – 18:00 WIB
19 Jun, The Nativity of St. John The Baptist – 18:00 WIB
24 Jun, The Most Sacred Heart of Jesus – 18:00 WIB
29 Jun, Solemnity of SS. Peter and Paul – 18:00 WIB
6 Aug, Feast of the Transfiguration of Our Lord – 18:00 WIB
15 Aug, Assumption of the Blessed Mother – 18:00 WIB
17 Aug, Republic of Indonesia Independence Day – 18:00 WIB
31 Oct, All Saints Day – 17:15 WIB
2 Nov, All Souls Day – 18:00 WIB
21 Nov, Solemnity of Christ the King – 18:00 WIB
8 Dec, Immaculate Conception of the Virgin Mary – 18:00 WIB
Every Sat, Stations of the Cross – 17:15 WIB
26 Feb, Ash Wednesday – 18:00 WIB
4 Apr, Blessing of Palms, Stations of the Cross, Holy Mass – 17:15 WIB
9 Apr, Holy Thursday – 18:00 WIB
10 Apr, Good Friday – 18:00 WIB
11 Apr, Holy Saturday – 18:00 WIB
12 Apr, Easter Sunday – 09:30 WIB
13 Apr, Easter Day 2 – 18:00 WIB
1 May (Fri)
Opening Ceremony followed by Procession – 17:15 WIB
Holy Mass – 18:00 WIB
2 May – 30 May – During The Marian Month (Mon – Sat)
Rosary Devotion – 17:30 WIB
Holy Mass – 18:00 WIB
(First Friday Only – Followed by Divine Mercy Devotion)
30 May (Sat)
Closing Ceremony & Feast of Pentecost
Procession – 17:15 WIB
Holy Mass – 18:00 WIB
Annual Feast 2020/Nativity of The Blessed Mother
30 Aug (Sun), Opening Novena
Procession & Flag Hoisting Ceremony – 17:15 WIB
Holy Mass – 18:00 WIB
31 Aug (Mon), Novena Day-2 & Mass – 17:15 WIB
1 Sep (Tue), Novena Day-3 & Mass – 17:15 WIB
2 Sep (Wed), Novena Day-4 & Mass – 17:15 WIB
3 Sep, (Thu) Novena Day-5 & Mass – 17:15 WIB
4 Sep, (Fri) Novena Day-6 & Mass – 17:15 WIB
5 Sep, (Sat) Novena Day-7 & Mass – 17:15 WIB
6 Sep, (Sun) Novena Day-8 & Mass – 17:15 WIB
7 Sep, (Mon) Novena Day-9
Closing Novena & Procession – 17:00 WIB
Holy Mass – 18:00 WIB
Flag Lowering Ceremony
Burning of Petition letters
8 Sep (Tue), Annual Feast 2020 / Nativity of The Blessed Mother
Festive Mass & Blessing of the Sick – 17:15 WIB
1 Oct (Thu) – Opening Ceremony
Procession – 17.15 WIB
Mass – 18.00 WIB
2 Oct – 30 Oct – During The Month of Rosary (Mon – Sat)
Rosary Prayers – 17.30 WIB
Mass – 18.00 WIB
7 Oct (Web) – Maria Queen of Rosary
Rosary Prayers – 17.15 WIB
Mass – 18.00 WIB
31 Oct (Sat) – Closing Ceremony & All Saints Day
Procession – 17.15 WIB
Mass – 18.00 WIB
Corpus Christi Procession 2020
Date to be announced later
24 Dec, Christmas Eve Mass – 18:00 WIB
25 Dec, Christmas Day, The Nativity of Our Lord Jesus – 09:30 WIB
26 Dec, 2nd Christmas Octave, Feast of St. Stephen – 18:00 WIB
27 Dec, 3rd Christmas Octave, Feast of St. John the Evangelist &
Celebration of the 50th Anniversary of Father James's Ordination
to the Priesthood – 17:00 WIB
28 Dec, 4th Christmas Octave, Feast of the Holy Innocents – 18:00 WIB
29 Dec, 5th Christmas Octave, Feast of the Holy Family – 18:00 WIB
31 Dec, Adoration & Closing of Year 2020 Mass – 17:15 WIB
1 Jan 2021, Mary, the Holy Mother of God &
2021 New Year Mass – 09:30 WIB