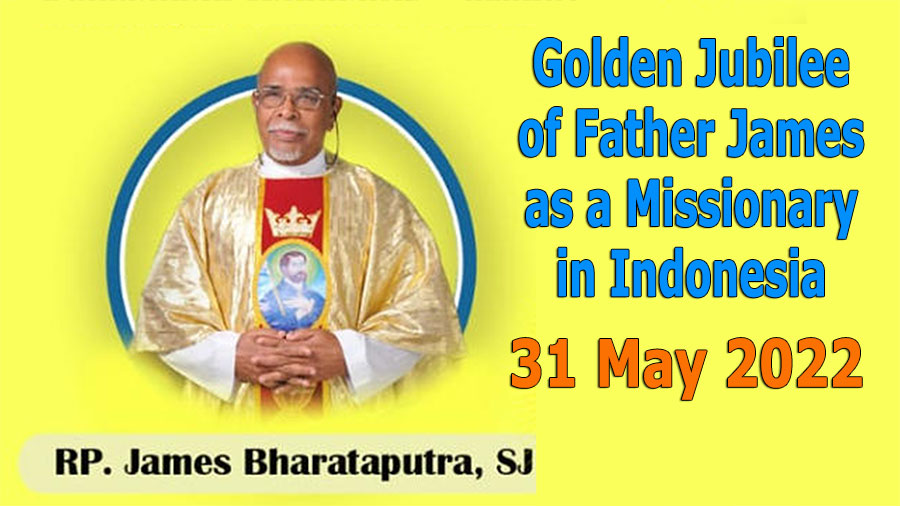 A Thanksgiving Mass was celebrated on Tuesday 31st May 2022 on the occasion of the 50th anniversary of Father James as a Missionary in Indonesia. The Thanksgiving Mass began at 5.00 pm at Graha Maria Annai Velangkanni and was celebrated by Father Michael Manurung OFM Cap, Vicar General of the Archdiocese of Medan, and accompanied by Fathers, Sisters and Brothers. The Thanksgiving Mass was also supported by a choir performance from the postulants of the spiritual orientation year program in Pematangsiantar, and well attended by the parishioners from the various parishes in Medan Archdiocese.
In his homily Father Michael thanked Father James and the congregation, for establishing the Marian Shrine as a place of pilgrimage for everyone regardless of race and creed. Meanwhile, the Chairperson of the Organizing Committee Jeffri Siallagan in his speech thanked all those who had helped organize the event, and hoped the commemoration of the Golden Jubilee will make everyone more passionate in realizing Father James' vision for the Marian Shrine of Graha Maria Annai Velangkanni as a place of worship for all.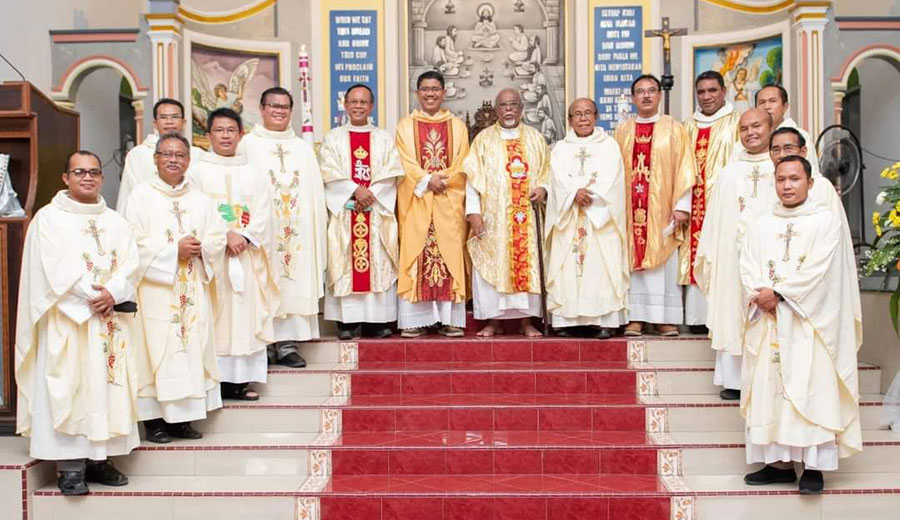 In 1972, Father James was sent by Hong Kong Jesuit Provincial, Fr. Fergus Cronin S.J. of happy memory at the request of the archbishop of Medan, Msgr. A. H. Van den Hurk OFM Cap. On 18 May, 2022, Father James marked the 50th year of his missionary life in Indonesia, where he served 46 years in the Archdiocese of Medan in North Sumatra and 4 years in the Diocese of Manokwari-Sorong in West Papua.
Apart from that Father James also served as a Parish Priest of the Sacred Heart of Jesus Parish in Banda Aceh. From 1996 – 2000 served as the Rector of the spiritual orientation year program in Pematangsiantar. The last 22 years, since 2000, he has been responsible for establishing the Marian Shrine of Graha Maria Annai Velangkanni Pilgrimage Center for the Medan Archdiocese in Tanjung Selamat Medan and is currently serving as its Rector.
Looking back on 50 years of awe-inspiring missionary life, Father James believes that God's loving providence had led him to Indonesia, a land that he never dreamed of, to grow and bear fruits.
We pray, O Lord, for Father James who celebrated his Golden Jubilee as a Missionary in Indonesia and thank him for his faithful service to your Church in Indonesia. Strengthen him with your grace and gladden his heart with your love so that he will continue to spend his life in the service of your holy People.
Thank you to the Vicar General, the priests, sisters, brothers, the congregation and the committee who have made this Thanksgiving Mass an auspicious occasion to glorify God.
Ad Majorem Dei Gloriam.
(Everything is for God's greater glory)
Feast Organizing Committee.
Marian Shrine of Graha Maria Annai Velangkanni.
Watch the recorded event here
Father James Canon Moment – The moment that changed my life